The New Track Attack - Be a Better Driver and Connect with Other Drivers
Super excited to be writing this post as we finally get to give a glimpse and introduce the new Track Attack!
Why pivot?
Over the past few years with the Track Attack mobile app on iOS, Android and Windows Phones, we've accomplished and learned even more. While we have 70k+ registered users with 10k+ monthly active users, we kept on hearing from drivers at all levels the following - "this app is cool and all but I already invested in dedicated hardware and I have tons of data (and sometimes video) from years and years of driving. It's tough to give all that up!"
This made us realize that while Track Attack as a mobile app is great, it will only succeed in helping people get faster and connecting drivers around the world, among the people who have TA. This number is growing but pales in comparison to the true # of drivers out there. We also realized that the cloud platform we built, can be relatively easily, extended to accept data and video from any data acquisition system.
We decided to pivot because our goal has always been the same - enable drivers of all levels, to get faster and connect them with other drivers, around the world, on a foundation of data + video. All while leveraging the devices they already have - initially we focused on smartphones but now we're expanding it to all hardware. AIM, MoTec, RaceLogic, TraqMate, Alfano, UniPro and even other smartphone apps.
We've also joined forces with Off Camber Data to make this happen, as we both share the same vision and our heritage and strengths are complimentary. Off Camber Data has built an excellent analytic software package, leveraging data and video and while it has been primarily targeted towards karting, all of it is equally as powerful for cars. They've been helping some of the top karting teams internationally, win championships for years and we're jacked about combining forces with them. We're taking their OCD software package, connecting it to the cloud with our data platform/service and adding in the layers of video editing we've been doing on the mobile apps and our pre-alpha analytics app.
Track Attack + Off Camber Data = The New, Modern, Cloud Connected Standard for Motorsports! This is the new Track Attack.
Benefit 1: Secure Cloud Storage - Access on Any Device and Anywhere in the World
Today, nearly all session data files that are recorded via the prominent solutions out there essentially sit on people's hard drives, and from what we've seen around several paddocks, on older computers. In the best cases, someone has a newer computer, is backing it up regularly or is saving their session files to a USB drive. But they are all crossing every finger, hoping that the hard drives don't crash and the USB sticks don't get lost.
Some professional teams do have shared network drives, where they upload and save the raw session files - with varying consistency of folder and file naming conventions. In short, yes - they are at least saved somewhere so they aren't dependent on a single computer but good luck trying to find what you need, if you weren't the one who explicitly put a file in a specific place.
The solution: With the new Track Attack - every user will have an identity, that they can create by signing in with their Facebook, Google or Microsoft Account (e.g. Hotmail, Outlook or Xbox account) - no more needing to create yet another account with yet another password.
For each of our users, all of their data and video, securely stored to the cloud after it's been imported into the TA analytic software app. Further, users will be able to save a copy of the original/native data files to each session - so no matter what, you can sleep well at night knowing your data is safe and accessible from any computer, via the software and in the future any browser.
Benefit 2: Better Analytics and More Awesome Videos
As we've spent our fair share of time talking with drivers in the paddock about their data systems and how they approach learning, we learned one big truth - these systems are hard to setup, use and especially analyze. While at first we were surprised to see that the vast majority of drivers who had a data acquisition system, were pretty much using it as a lap timer only - when we dug into it, it made sense. Our backgrounds before and aside from Track Attack and racing is technology - where we live and breathe data-driven decision making on a daily basis. Even for professionals, making sense of charts, graphs and tables is hard - so it makes perfect sense that the same challenges exist in motorsports.
What we found over and over again, was that when the video was paired with data - it helps people understand the data better, specifically what was happening, why it happened and as crazy as it sounds, when it happened. Drivers are better able to remember what was happening during specific data points and thus recall what they saw, felt and even smelled. It is this bringing of the full physical experience into learning, that has helped people understand data, figure out what to do and most importantly visualize what they want to do better, in the future.
Lastly, with having the data and video, together - we can now let people create awesome videos of their sessions/races with data overlays for sharing with friends and marketing content development. In the past, videos like this were only possible by recording with the Track Attack mobile app but now, these awesome videos can be made with data from any system and video from any camera.
We'll have fully customizable data overlays, multiple-camera input support and the ability to easily share these movies of a whole session, single or specific sessions.
Benefit 3: Community
The last piece of the puzzle here is that we're going to make this an actual experience where drivers can find, connect and share data with others, easily. No finding files and emailing as attachments or transferring over USB sticks. You will be able to find other people, request access to session data and instantly have it (upon approval). As a driver, you'll be able to make all of it public, none of it public and everything in between. It is your data and you decide how it can be accessed.
You'll be able to create teams where each team member will have access to each-other's data. Groups, classes and sanctioning bodies - so that it is easier to find data specific to your competitive area. Driver, car, team, group and track profile pages. Track profile pages will be where people can come together, document and share the collective knowledge base about a race track or circuit. Tracks will also have leaderboards for fastest lap times but also many other ways to compete, beyond just the one-lap pace.
Note: these are illustrative designs and the final thing will be different. But you get the point. :)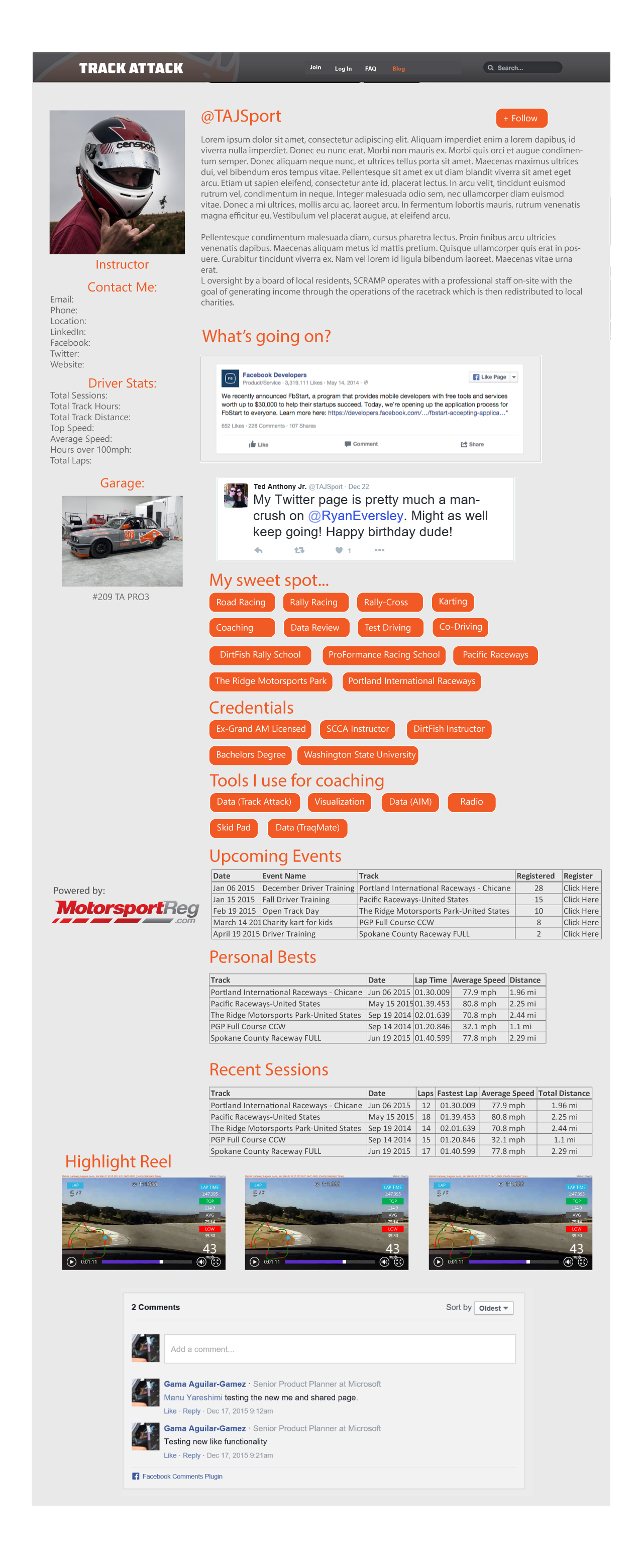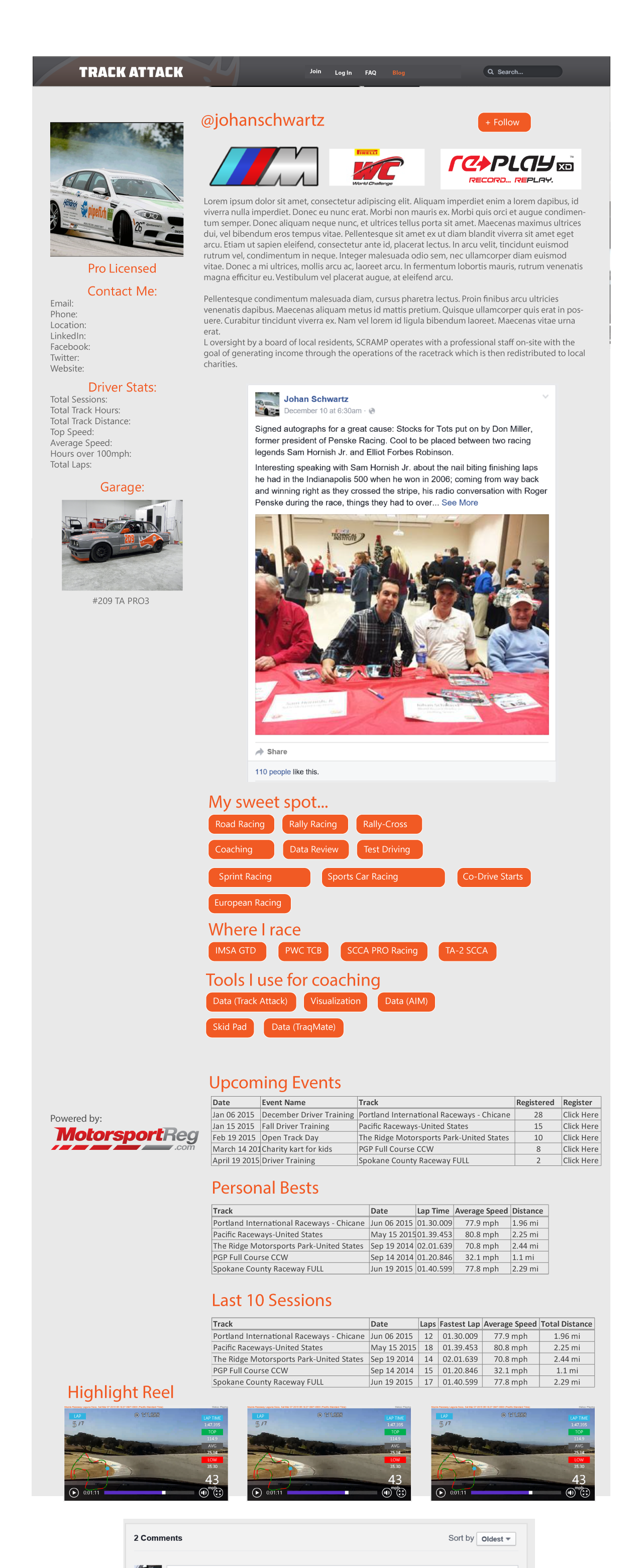 As a motorsport fan, you'll be able to find teams, drivers and tracks and follow them - so you're always up to date with the latest from each of these entities.
This is the type of motorsport community that should exist with technology as we have it today and we are going to make it happen, with all of you!
Next Steps:
Using the analogy of building a house, we are laying the foundation right now. Over the next few weeks, we will have released our MVP 1 candidate build and having a small group of people using it, breaking it and giving us feedback. By the end of July, we'll be increasing the number of users to the service, with a goal of having a first complete version, with most of what we outlined above, ready and available for general use by the end of September.
Indiegogo Campaign: While we are already building this, we need your support to make this truly a world class service and experience. We are launching an Indiegogo campaign very soon to raise funds so we can pay our starving team who is working nights, weekends and for close to zero salary. We believe this will be an integral part of the motorsport community, it will be profitable soon and this initial fund raising is the spark of energy we need to get us going in that direction.
Get involved by either letting us know if you want to be an alpha or beta tester on our Facebook Page and/or pledging to our Indiegogo campaign, which will launch soon!